Supermicro X11 Generation BigTwin

Enterprise Optimized Hyper-Converged Infrastructure - New Intel Xeon Scalable Processors Supported.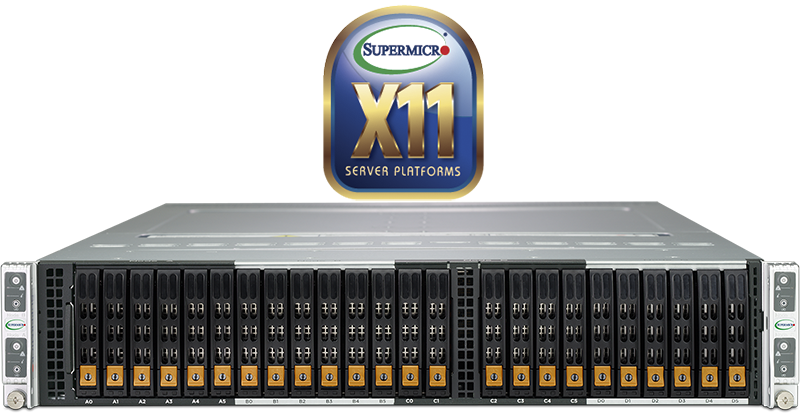 The Supermicro BigTwin SuperServer systems are a family of high-density 2U hot-plug node servers available with a variety of memory capacities, HDD technologies, PCIe alternatives, networking capabilities, and GPU support options. Support for the latest Intel Xeon Scalable processors enable a host benefits to each generation of the Twin architecture with: up to 3TB (BigTwin)/2TB (TwinPro) of DDR4-2666MHz ECC memory in 24 or 16 DIMM slots, flexible networking options of up to 100G, and integrated Ultra Path Interconnect technology for lower latency and extra bandwidth.
The BigTwin is the 5th generation of the breakthrough Twin architecture which extends the compute and storage capabilities of Supermicro's 2U TwinPro and 1U Twin family SuperServer systems. Offering up to 24 All-Flash NVMe or Hybrid HDDs, 2 low-profile PCI-E x16 slots and 1 SIOM slot for maximum networking flexibility, the BigTwin is optimized for today's demanded IT requirements.
The Supermicro BigTwin represents a revolution in Green Computing designed to support customers' critical applications and also reduce Data Center TCO to help preserve the environment. Due to their shared components, the Twin Family improves cost-effectiveness and reliability over rackmount servers, while their modular architecture enables flexible configuration and easy maintenance.
Versatile configurations and the availability of 2U form factors allow the BigTwin Servers to be optimized for many different environments including Enterprise, Data Center, Cloud Computing, HPC, Financial, Science and Engineering, File and Storage Servers.
Up to (BigTwin):
3TB DDR4 2666MHz memory in 24 DIMM slots
205W per socket
24 2.5" All-Flash NVMe or Hybrid Drive Bays in 2U
3 PCI-E 3.0 x16 slots
Redundant 2200W high efficiency (96%) power supplies
Supermicro BigTwin Solutions
The Supermicro BigTwin is the first and only 2U multi-node system supporting the highest performance processor, memory, storage, I/O and an incredible 30% better thermal capacity. The 5th generation of Supermicro's Twin architecture is fully optimized for today's diverse workloads and architected for further technology breakthroughs.
2.5" Drive Bays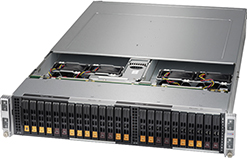 BigTwin 4 NVMe/SATA3 + 2 SATA3 per Node
4 DP nodes in 2U; depth 28.5", Each Node:
Dual Socket P (LGA 3647) support: Intel Xeon Scalable processors; dual UPI up to 10.4GT/s
24 DIMMs; up to 3TB ECC 3DS LRDIMM or RDIMM DDR4-2666MHz
4 Hot-swap 2.5" NVMe/SATA3 + 2 Hot-swap 2.5" SATA3 drive bays per node
2 PCI-E 3.0 x16 Low-profile slots, 1 Networking SIOM card support
1 Dedicated IPMI port, 1 VGA, 2 USB 3.0, 1 SuperDOM
4 heavy duty 80mm fans w/ optimal fan speed control
2200W Redundant Titanium Level (96%) Power Supplies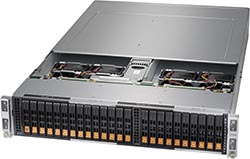 BigTwin 6 NVMe per Node N+1 Cooling
4 DP nodes in 2U; depth 28.75", Each Node:
Dual Socket P (LGA 3647) support: Intel Xeon Scalable processors; 3 UPI up to 10.4GT/s
24 DIMMs; up to 3TB ECC 3DS LRDIMM or RDIMM DDR4-2666MHz
6 Hot-swap 2.5" NVMe drive bays per node; 2 M.2 SATA3 or NVMe support
2 PCI-E 3.0 x16 Low-profile slots, 1 Networking SIOM card support
1 Dedicated IPMI port, 1 VGA, 2 USB 3.0, 1 SuperDOM
16 Heavy duty 40x56mm fans w/ optimal fan speed control (4 fans per node)
2600W Redundant Titanium Level (96%) Power Supplies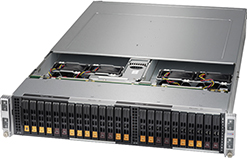 BigTwin 4 NVMe/SAS3/SATA3 + 2 SAS3/SATA3 per Node
4 DP nodes in 2U; depth 28.5", Each Node:
Dual Socket P (LGA 3647) support: Intel Xeon Scalable processors; dual UPI up to 10.4GT/s
24 DIMMs; up to 3TB ECC 3DS LRDIMM or RDIMM DDR4-2666MHz
6 SAS3 or 4 NVMe + 2 SAS3 Hot-swap 2.5" drive bays per node
SAS3 support via Broadcom 3108; RAID 0, 1, 5, 6, 10, 50, 60
1 PCI-E 3.0 x16 Low-profile slot, 1 Networking SIOM card support
1 Dedicated IPMI port, 1 VGA, 2 USB 3.0, 1 SuperDOM
4 heavy duty 80mm fans w/ optimal fan speed control
2200W Redundant Titanium Level (96%) Power Supplies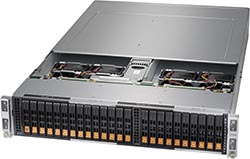 BigTwin 6 NVMe per Node
4 DP nodes in 2U; depth 28.5", Each Node:
Dual Socket P (LGA 3647) support: Intel Xeon Scalable processors; dual UPI up to 10.4GT/s
24 DIMMs; up to 3TB ECC 3DS LRDIMM or RDIMM DDR4-2666MHz
6 Hot-swap 2.5" NVMe drive bays per node
2 PCI-E 3.0 x16 Low-profile slots, 1 Networking SIOM card support
1 Dedicated IPMI port, 1 VGA, 2 USB 3.0, 1 SuperDOM
4 heavy duty 80mm fans w/ optimal fan speed control
2200W Redundant Titanium Level (96%) Power Supplies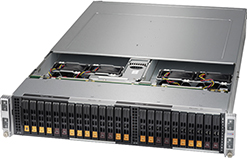 BigTwin 4 NVMe/SAS3/SATA3 + 2 SAS3/SATA3 per Node
4 DP nodes in 2U; depth 28.5", Each Node:
Dual Socket P (LGA 3647) support: Intel Xeon Scalable processors; dual UPI up to 10.4GT/s
24 DIMMs; up to 3TB ECC 3DS LRDIMM or RDIMM DDR4-2666MHz
6 SAS3 or 4 NVMe + 2 SAS3 Hot-swap 2.5" drive bays per node
SAS3 support via Broadcom 3008; IT mode
2 PCI-E 3.0 x16 Low-profile slots, 1 Networking SIOM card support
1 Dedicated IPMI port, 1 VGA, 2 USB 3.0, 1 SuperDOM
4 heavy duty 80mm fans w/ optimal fan speed control
2200W Redundant Titanium Level (96%) Power Supplies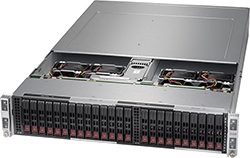 BigTwin 6 SATA3 per Node
4 DP nodes in 2U; depth 28.5", Each Node:
Dual Socket P (LGA 3647) support: Intel Xeon Scalable processors; dual UPI up to 10.4GT/s
24 DIMMs; up to 3TB ECC 3DS LRDIMM or RDIMM DDR4-2666MHz
6 Hot-swap 2.5" SATA3 drive bays per node
2 PCI-E 3.0 x16 Low-profile slots, 1 Networking SIOM card support
1 Dedicated IPMI port, 1 VGA, 2 USB 3.0, 1 SuperDOM
4 heavy duty 80mm fans w/ optimal fan speed control
2200W Redundant Titanium Level (96%) Power Supplies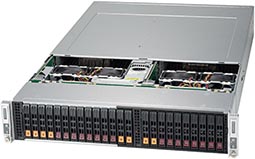 BigTwin 4 NVMe/SAS3 + 8 SAS3 per Node
2 DP nodes in 2U; depth 28.5", Each Node:
Dual Socket P (LGA 3647) support: Intel Xeon Scalable processors; dual UPI up to 10.4GT/s
24 DIMMs; up to 3TB ECC 3DS LRDIMM or RDIMM DDR4-2666MHz
4 NVMe/SAS3 + 8 SAS3 Hot-swap 2.5" drive bays per node
SAS3 (12Gbps) support via Broadcom 3216; IT mode
2 PCI-E 3.0 x8, 1 PCI-E 3.0 x16, 1 Networking SIOM card support
1 Dedicated IPMI port, 1 VGA, 2 USB 3.0, 1 SuperDOM
4 heavy duty 80mm fans w/ optimal fan speed control
2200W Redundant Titanium Level (96%) Power Supplies
3.5" Drive Bays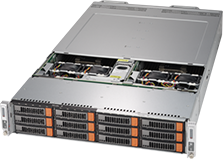 BigTwin 3 NVMe/SAS3 + 3 SAS3 per Node
2 DP nodes in 2U; depth 30.11", Each Node:
Dual Socket P (LGA 3647) support: Intel Xeon Scalable processor; dual UPI up to 10.4GT/s
24 DIMM slots; up to 3TB ECC 3DS L/RDIMM, up to DDR4-2666MHz
3 NVMe/SAS3 + 3 SAS3 Hot-swap 3.5" drive bays per node, 2 Internal M.2 NVMe/SATA slots
SAS3 support via Broadcom 3008; IT mode
2 PCI-E 3.0 x8, 1 PCI-E 3.0 x16, 1 Networking SIOM card support
1 Dedicated IPMI port, 1 VGA, 2 USB 3.0, 1 SuperDOM
4 heavy duty 80mm fans w/ optimal fan speed control
2200W Redundant Titanium Level (96%) Power Supplies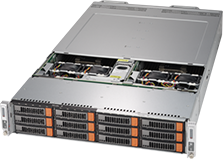 BigTwin 3 NVMe/SAS3 per Node
4 DP nodes in 2U; depth 30.11", Each Node:
Dual Socket P (LGA 3647) support: Intel Xeon Scalable processors; dual UPI up to 10.4GT/s
24 DIMM slots; up to 3TB ECC 3DS L/RDIMM, up to DDR4-2666MHz
3 Hot-swap NVMe/SAS3 drive bays per node
SAS3 support via Broadcom 3008; IT mode
2 PCI-E 3.0 x16 Low-profile slots, 1 Networking SIOM card support
1 Dedicated IPMI port, 1 VGA, 2 USB 3.0, 1 SuperDOM
4 heavy duty 80mm fans w/ optimal fan speed control
2200W Redundant Titanium Level (96%) Power Supplies